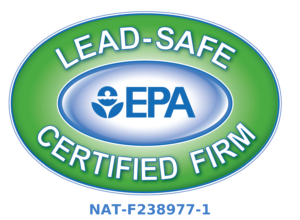 Serenity Home Inspections now offers lead safe inspections. What does that mean? If you have a home prior to 1978, there is a possibility of lead based paint in your home. We can take lead dust samples throughout your home to gauge your risk and provide options for remediation if needed.
Lead is a toxic, naturally occurring element and heavy metal in our environment that was widely used in commercial products such as gasoline, paint, cosmetics, spices, and pottery. Lead exposure in children can cause nervous system and kidney damage, as well as learning disabilities, attention-deficit disorder, and decreased intelligence. It can also cause behavior, speech, and language problems, hearing damage, decreased muscle and bone growth, and poor muscle coordination.
Lead-based paint is usually not a hazard if it is in good condition, and the paint is not on an impact or friction surface, such as a window. Deteriorating lead-based paint (peeling, chipping, chalking, cracking, or damaged paint) is a hazard and needs attention. Lead dust can form when lead-based paint is scraped, sanded, or heated. Dust also forms when painted surfaces bump or rub together. Lead chips and dust can reside on surfaces and objects that people touch.
If lead-based paint hazards are identified, then the owner of the dwelling shall remediate the hazards through abatement or lead-based paint hazard control mechanisms. Property owners must also report all tenant turnover activity to the municipality. Lastly, property owners must provide a copy of N.J.A.C. 5:28A, any lead-safe certifications, and the accompanying guidance document, Lead-Based Paint in Rental Dwellings, to any prospective owners of the dwelling during the real estate transaction, settlement, or closing.
After the initial inspection, all units shall be inspected for lead-based paint hazards every three years, or upon tenant turnover, whichever is earlier. An inspection upon tenant turnover is not required if the owner has a valid lead-safe certificate. Lead-safe certificates are valid for two years. If the lead-safe certificate has expired, and there will be a tenant turnover, an inspection will be necessary before the three-year inspection.
Dust wipe sampling is collected by wiping a representative surface, including floors (both carpeted and uncarpeted), interior windowsills, and other similar surfaces, and testing in accordance with a method approved by the United States Department of Housing and Urban Development (HUD). These samples must be undertaken properly to ensure that results are accurate.